This week has two very important things going down straight outta RKL HQ:
EVERFROST #1 – FOC is Monday!
The Final Order Cutoff is the date where retailers lock in any tweaks to their orders, so you still have a chance of securing your copy for June 02, when we land on shelves.
Please tell your comic shop you want this comic preordered and waiting for you because then you are guaranteed it, and won't be subject to possible sell outs on the day. Retailers tend to order less indie comics than they do the latest X-Event [I know, insane business model] and every preorder tells the shop it's a winner, so they're more likely to order an extra 1-2 for the shelf. Every preorder actively helps to move our initial sales much higher than just your 1 order. Here's what you can say, or email:
"Hey [INSERT SHOP NAME, or employee name if you're really something special], can I please preorder a comic, it looks amazing. It's called EVERFROST, from Black Mask Studios, the order code is APR211533 – I'd like all 4 issues set aside, please."
Yes, in fact, tell your shop you want all 4 issues, because this is a 4 issue mini, and you don't wanna get started and then get shorted on future installments of this, trust me. Here's a look at the first 2 covers from Sami Kivela: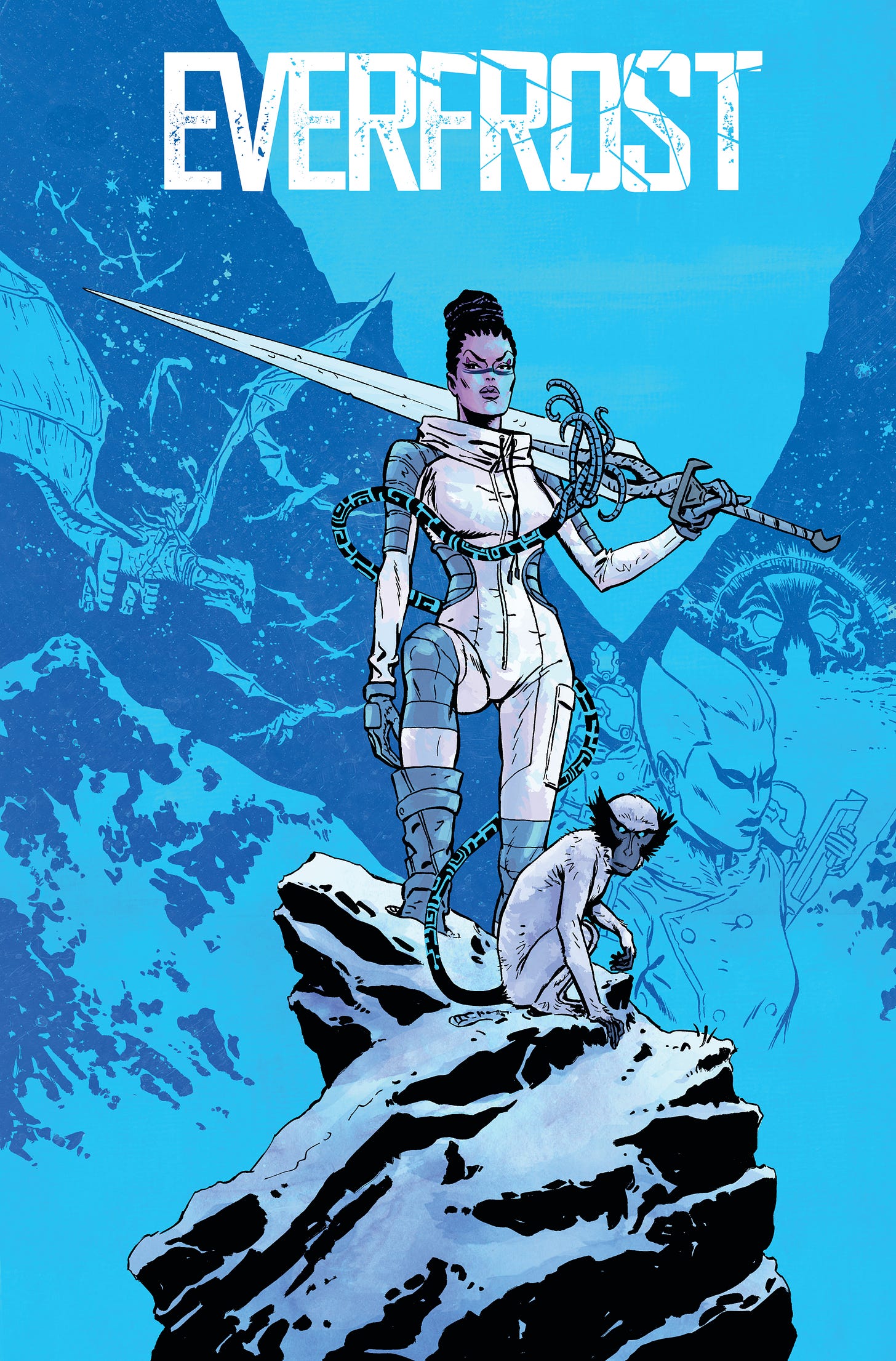 And also…
BLACK BEACON is in Heavy Metal #306 – THIS WEEK!
I have a shelf debut this week, my sci fi collaboration with Sebastian Piriz lands this week in the pages of Heavy Metal Magazine – pick up #306 when it lands from Wednesday and find the opening 22 page chapter of BLACK BEACON!
This is a huuuuuge sci fi story, and we'll be in the next 5 issues of the magazine. Here's a look at the first page:
You can pick up a copy this week, or tell your LCS to put it aside for you while you are talking to them about EVERFROST :] The cover looks like this:
Or, if you really wanna commit: BLACK BEACON is also getting a single issue release later in the year, and the first issue is up for preorder, so you can tell your comic shop to preorder BLACK BEACON #1 for you, it's from Heavy Metal, with order code MAY211491 – here's the cover:
It's a lot to remember – maybe keep this newsletter open while you have the chat, if you need the support. I am, if nothing else, always here for you.
To summarise, here's the date list rundown:
Here's the rundown, because the list is bigger now:
May 12 – HEAVY METAL #306 – sees the start of BLACK BEACON with me and Sebastian Piriz
June 02 – EVERFROST #1 lands – this miniseries starts here from me and Sami Kivela
June – HEAVY METAL #307 – the second chapter of BLACK BEACON lands in this issue, I assume, at this date
July 14 – EVERFROST #2 lands
July [insert number here] – BLACK BEACON starts to get a solo single issue release here, so if you missed the magazine, you can get our first chapter, with some back matter, right here.
EVERFROST runs for 4 months, BLACK BEACON will run for 6. Really excited about both of these, so hope you find your copies, set aside time to read, and know that I appreciate your support an insane amount.